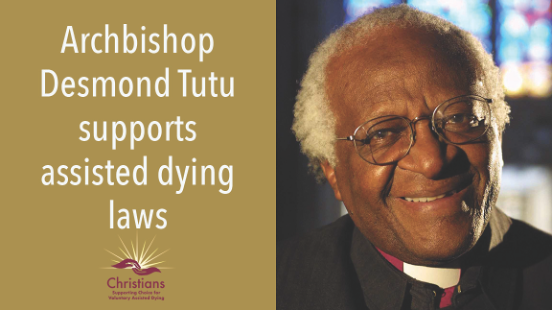 Archbishop Desmond Tutu
Archbishop Emeritus Desmond Tutu of Capetown is one of the most famous religious figures in the world. His endorsement of voluntary assisted dying is significant and will help to pierce the myth that being religious means being against assisted dying.
"People who are terminally ill should have the option of dignified and compassionate assisted dying alongside the wonderful palliative care that already exists". "I pray that lawmakers, politicians and religious leaders have the courage to support choices terminally ill citizens make in departing Mother Earth with dignity and love."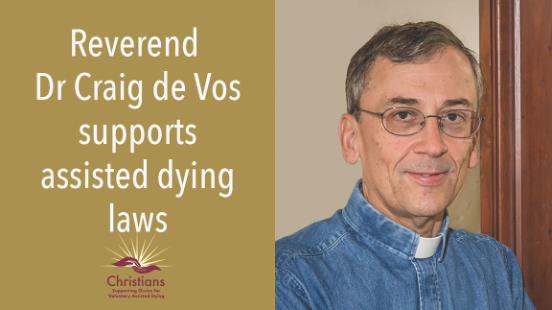 Rev Dr Craig de Vos
B.V.Sc., Dip.P.S., B.Th.(Hons.), Ph.D.
Rev Dr Craig de Vos is a practising Minister with a passion for social justice issues.
"Our politicians, often guided by dogmatic religious beliefs, continue to deny the majority who want the choice of a death with dignity. Some oppose voluntary assisted dying choice arguing that it's wrong because it's playing God. Yet so is artificially prolonging life, and so is allowing people to suffer an horrific death when there are more compassionate alternatives."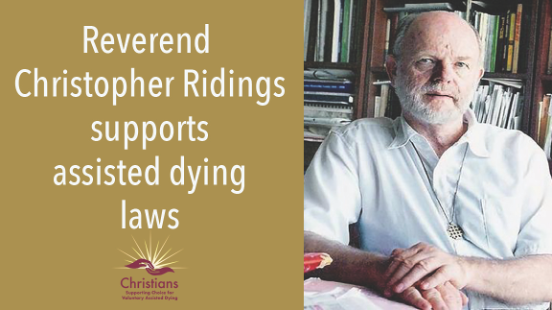 Rev Christopher Ridings
Rev Christopher Ridings – Retired minister of the Uniting Church in Australia.
"As a Christian, I deplore suffering in fellow human beings and believe that it is unnecessarily cruel to be obliged to endure it. Every person, I believe, is created by God with the right to a peaceful and dignified death."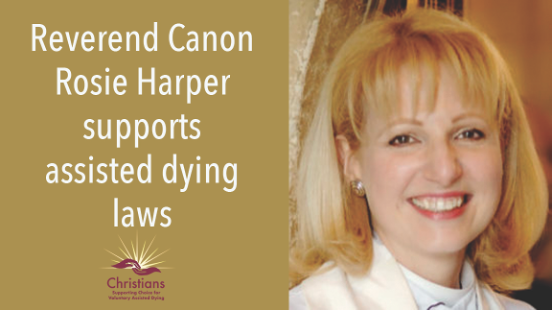 Rev Canon Rosie Harper
Rev Canon Rosie Harper is chaplain to the Bishop of Buckingham and a member of the Church of England's General Synod.
"A time to die? Why I believe in the right to choose
It's professional. Don't tell me that the time of someone's death is purely God's business. That at the moment when all a human soul wants is for it to end, God stands at the end of the bed and says: 'No my child, it is my will that you suffer just a few more days.'
That is pure fatalism and superstition. Even people who would use language such as 'God has a plan for your life' don't actually mean that everything that happens to them from birth to death is controlled. Of course not. We rejoice in our free will…….
It's personal. My Uncle Otto died of a nasty aggressive brain tumour about 6 years ago. Otto, being Swiss, was able to request and receive the help he needed to die in a dignified and pain-free, peaceful way. This merciful intervention in no way changed the fact of his death, and even now the sorrow is hard to bear, but it did cut short the last bitter agonies of the manner of his dying."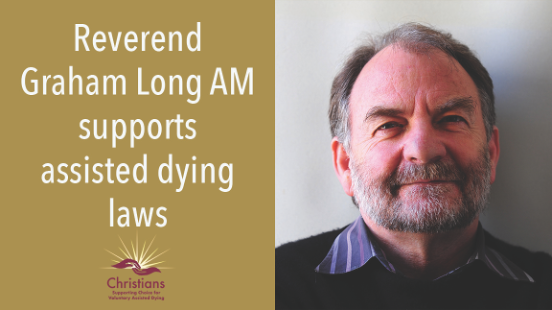 Rev Graham Long AM
Rev Graham Long AM is a pastor and former CEO of the Wayside Chapel in Sydney.
"The ethical issues around voluntary assisted dying are best conducted not in the university nor in the parliament but at the bedside of a suffering loved one. The good of life is multiple. It's a reductionist absurdity to argue that a mere pulse is human life. In the end stages of life, the only humane response required is that of compassion."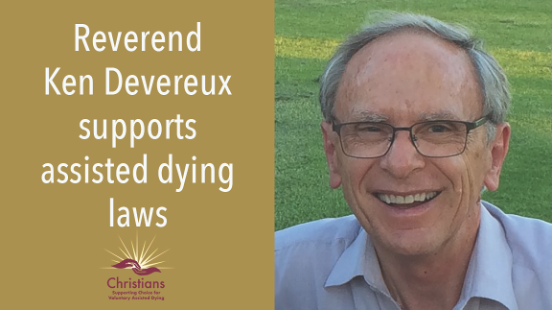 Reverend Ken Devereux
As a pastoral carer in a major public hospital in Western Australia, Rev Ken Devereux had frequent involvement with people who are dying, as well as with others who have concerns about the possibility of extreme distress when death is close. He asked Members of the WA Parliament to support the WA Voluntary Assisted Dying Bill.
"Voluntary Assisted Dying is a sensitive and controversial matter. However, contrary to widespread belief, it need not be inconsistent with quality palliative care nor with Christian faith.
"I think the legislation will provide a respectful, legal and closely monitored alternative that can help provide comfort to someone who is nearing the end of their life."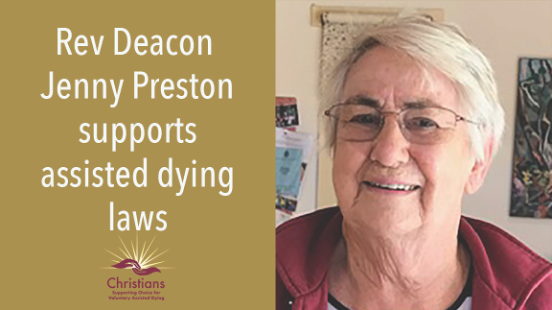 Rev Deacon Jenny Preston
"As an ordained Deacon of the UCA, I see my ministry as accompanying everyone and anyone who seeks a companion when they feel isolated, unheard, or unjustly treated. To be a companion – from the derivations of the word: panis – French got bread, and the com – to go with; there to share the sweet or sour bread of our journeys through life. Thanks for your steadfastness."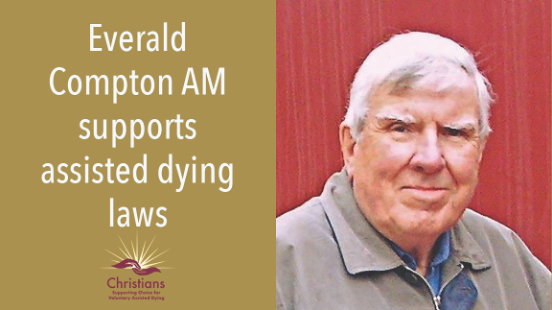 Everald Compton AM
Everald Compton AM is the longest serving Elder of the Uniting Church in Australia (61 years). He was a Founding Director of National Seniors Australia in 1976 and served on its Board for 35 years, 25 of them as Chairman. Everald is Honorary Campaign Leader of Dying with Dignity Queensland and is actively involved in the campaign to have assisted dying legislation enacted in Queensland.
"As a Church Elder, I am publicly supporting Voluntary Assisted Dying when the Churches of Queensland have joined together to make a submission to the Inquiry opposing it.
"The key factor is that they believe that God decides who lives or dies. I have never ever believed that.God gives you and me the spiritual power to handle whatever life and death throw up at us. With death being an inevitable and unavoidable part of life, why let many people suffer agony to get there.
I will be a definite candidate for Voluntary Assisted Dying if ever I face a terminal illness and I have advised my family in writing that this is my wish."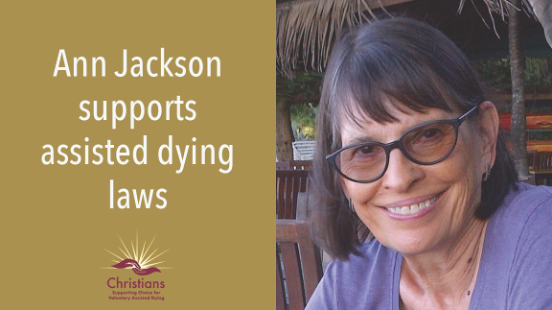 Ann Jackson
Ann Jackson lives in the US state of Oregon and she strongly supports a choice to use—or not use—voluntary assisted dying. She began her career with hospice and end of life care 30 years ago but did not always support the option of voluntary assisted dying.
"I was so arrogant to have thought we did not need voluntary aid in dying, if every Oregonian could have palliative care. But I had dismissed some needs, such as those related to autonomy, as unimportant. I was wrong."
Ann is proud to have played a role in implementing Oregon's law—and proving that VAD is a safe and valid choice. She has also been personally touched by the experience.
"My wonderful partner, died in December 2019. He loved living but dying was devouring his life. I was with him when he used Oregon's VAD law. I am bereft—and glad he could make that choice.
"Everyone draws their line in a different place. When does living shift into dying. When is it that living ends and dying begins? Who should decide when living ends and dying begins? You? Your family and loved ones? Your church? Your state?
"Who should decide when it is death that is being prolonged? Not life?
"I think it valid that a dying person make the choice between prolonging life or prolonging death.
"It was hard for me to see that the love of my life was dying. But it was truly clear that he was no longer living."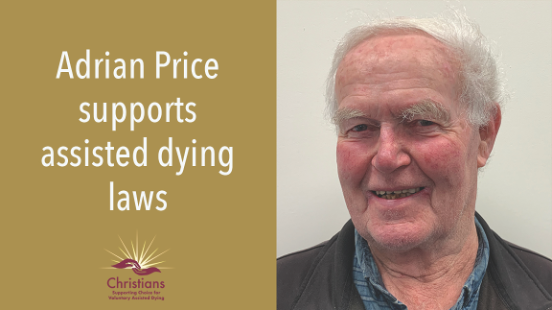 Adrian Price
Adrian Price is a member of the Anglican Diocese of Bunbury Synod and until recently he served as Bishop's Warden to the Bishop of Bunbury. Adrian had a vital role in the WA VAD campaign as the Representative of Christians Supporting Choice for Voluntary Assisted Dying in WA.
"The Voluntary Assisted Dying choice is supported by four out of five Australians. Victoria and Western Australia have given approval; it is time to give all Australians choice."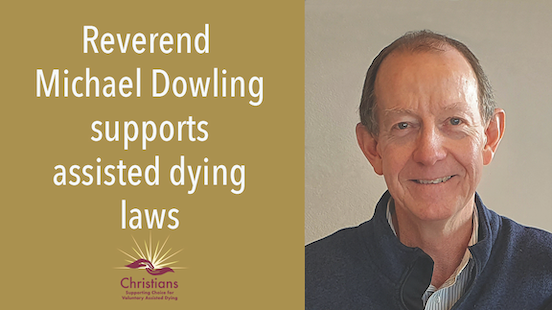 Michael Dowling
Minister of the Word in the Uniting Church of Australia.
"Secular people often have a view of 'the religious' which is largely formed from media stereotypes, stereotypes that tend to be based upon very vocal adherents of a particular viewpoint. Such stereotyping can lead to the mistaken conclusion that there is, for example, a monolithic 'Christian view' on particular social issues. They may assume, for example, that: all Christians oppose gay marriage; that all Christians wish to criminalise abortion; and that all Christians oppose voluntary assisted dying (VAD). Such is not the case. Within the Christian faith there is a wide variety of views on these subjects. On the particular topic of VAD, it is important for our wider society to understand that many committed Christians do indeed support individual choice for VAD."
"When we speak about legislation pertaining to VAD, we are considering circumstances that none of us would choose for ourselves, namely circumstances of unrelieved human suffering. If we are lucky, these circumstances will never befall us. Sadly, these circumstances do befall some people, and it is the unrelieved suffering of these people – not esoteric religious sensibilities – that must be our focus. When suffering is intolerable, when suffering is unrelievable, and when the person who suffers wishes fervently for this suffering to end, must not our society's compassionate response be to ask, 'How can we help to end your suffering?' "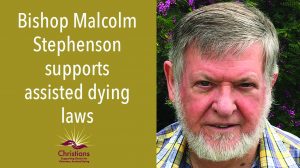 Malcolm Stephenson, Bishop
Malcolm Stephenson is a Bishop of the Community of Christ, Australia Mission Centre.
"As a Bishop within my denomination, I have walked with too many people during their last excruciatingly painful human journey to not assert my belief that my God doesn't want that suffering.
"Medical science has developed the ability of people to overcome many health issues but there are still some that are beyond us. Compassion and respect for an individual's dignity demands we allow folk with terminal conditions to choose their last minutes and with whom they depart this life.
"Please give dying people another option when palliative care cannot relieve suffering."